NOTICE : STUDIO THURSDAYS
Due to construction works in my studio building during the month of November, ALL SHOPPING STUDIO VISITS WILL REQUIRE AN APPOINTMENT, EVEN ON THURSDAYS. Please check my availabilities and make your appointments via this link.
My apologies for any inconveniences. And thank you for understanding!
"Climate Strange"
This collection is an ode to the unhinged climate of our times, a reverence to the resilience of nature despite all odds, and a love letter to our generation, the first to bear witness to the strangest of environmental shifts, and for whom eminent existential questions are ordinary forms of pondering.
In parallel to our eco anxious culture, my instinct craves comfort in what grounds and tickles my need for reveries. Despite her power for destruction, it is grand supreme mother nature that fills me with fascination and hope. The roots, the webs of multicellular organisms, the simplest proliferation of buds or stems, are the strength I want to emanate and capture. With my work, I seek to immortalize these phenomenon in their growth and hence I spawn an ecosystem of sculptural creatures meant to inhabit your bodies, decorate our skins and fingers as to safeguard our sanity with symbolic armature.
-
View the lookbook here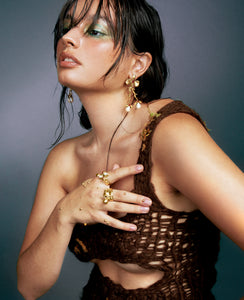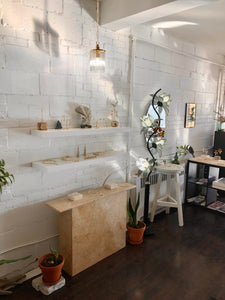 Come shop in person
One day per week I open my studio doors to the public, with no appointments required, where you can come meet me, see how I work, ask questions and try on all the jewelry available.
-
7119 rue St-Hubert #300, Montréal, Qc, Canada
Open every Thursdays 2-8pm.
** These walk-in hours are closed for the entire month of November. YOU WILL NEED TO MAKE AN APPT to come visit the studio. **
Note these hours can sometimes differ. If so it will be mentioned on my instagram stories or google maps.
For visits at any other time, please make an appointment by contacting me via email , DMs or using our app.
find us on the map
ORA-C STUDIO / BOUTIQUE : 7119 rue St-Hubert #300, Montreal, Qc H2S 2N1, Canada